Outpatient Therapy & Counseling
Outpatient Therapy provides therapeutic interventions to individuals of various ages in need of mental health care and resources. Outpatient services are tailored to meet the unique needs of each client. These services may include individual, child, adolescent, marriage and family counseling. Outpatient therapy is not intended for individuals who require a higher level of care such as hospitalization or residential care.
Persons referred for or seeking outpatient therapy are often seeking a more short-term involvement in therapy. As such, outpatient therapy is often referred to as "outpatient counseling." "Counseling" generally refers to a shorter process than "therapy," which is often more intensive or requires a lengthier process.
A counselor can be an aid in clarifying client issues or re-framing problems and can help the client delineate and ultimately choose a better course of action or behavior. While a counselor gives therapeutic feedback, he or she doesn't make decisions for the client; the responsibility to change behaviors or to overcome obstacles remains with the client.
Outpatient therapy takes place in an office setting and provides assessment, treatment and mental health referrals. Also provided is follow up support to individuals just graduating from more intensive services. Outpatient services are best suited for individuals who are committed to treatment as it relies on the individual's dedication and willingness to work on and overcome the challenges of their day-to-day lives.

Call us at 724-222-2265 to discover how we can help.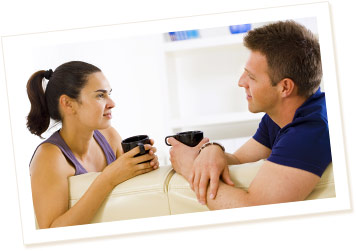 Have Questions?
Other Services
The TTRAC Program was designed to transform individuals who struggle with managing their anger.
The REACH Program is specifically designed to help parents whose children struggle with emotional or behavioral difficulties.